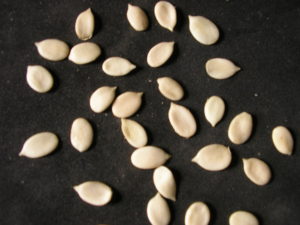 In most West African countries, Egusi stew or soup is an important staple. Many people like it with Kontomire(Cocoyam leaves) or spinach leaves, the taste is always flavorful and is great for those who want to try something different once in a while. I want to share with you some basics of how I make it Ghana style.
Ingredients
cup palm oil or vegetable oil

1

medium red onion, chopped

4

cloves garlic, minced

3

tablespoons minced ginger (1 ounce)

1

habanero chile, seeds and ribs removed, minced (include seeds if you love heat)

Kosher salt

1

tablespoon tomato paste

2 ½

pounds plum tomatoes, chopped

¾

cup egusi or raw shelled pumpkin seeds

1

pound spinach, washed, dried and roughly chopped
Directions
In a Dutch oven, warm the oil over medium heat, and add the onions, garlic, ginger, chile and a couple pinches of salt. Cook, stirring frequently, until the onions are golden brown and sweet, about 15 minutes. Stir in the tomato paste, and cook for 3 minutes. Add the tomatoes.Bring to a boil, lower heat to a simmer and partly cover the pan. Simmer, stirring occasionally, until the sauce has cooked to a rich tomato-soup consistency, about 25 minutes.
Meanwhile, pulse the egusi or pumpkin seeds in a food processor or blender to a fine powder, until it just starts to get clumpy.
When the tomatoes have reduced,  Stir in water, a tablespoon at a time, to the bowl of egusi powder until it is a loose paste. Add the egusi paste on top of the tomato sauce, and spread it out. Cover the pan, and cook 5 minutes.
Stir the sauce all together; it will look like a thick porridge.  Stir in the spinach, until wilted and tender. Taste, season with salt. Serve with boiled rice, yams or plantain.
Rosie's Extra Tip-I love my sauce with a little bit of cabbage and sardines in oil.