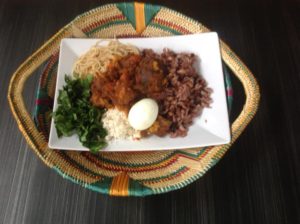 Waakye pronounced (Waa-Chay) is one of my favorite foods on the planet. It is mainly enjoyed by almost everyone in Ghana.  Many friends of Kalahari Foods have asked for the recipe and to make it very simple to prepare it, we have created a simple recipe just for you.It is usually paired with stew and spicy sauce (shito) but can be equally enjoyed with any choice of chicken, croaker fish, oxtail, or goat meat. When I am homesick, eating a bowl of waakye usually lifts my spirits any day.
On any given Saturday or Sunday morning in Ghana, you would see long lines of people waiting to get their waakye.
Ingredients-
7 ounces  black-eyed peas rinsed
7 ounces long grain rice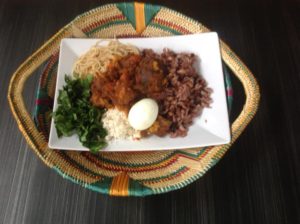 A teaspoon of baking soda
salt
4-5 cups water
Directions
Soak the black-eyed peas or your preferred beans in water over night in water to become soft and easy to cook. Alternatively, you can soak it for 3 – 5 hours in the morning, should you want to prepare this meal for lunch or dinner.
Now bring the soaked beans to boil in 2 cups of the water in a pot. Boil for about 15 minutes and add the baking soda.(Some people prefer to use the
Then wash your rice and add to the boiling beans and add more water. Allow the mixture to boil for about 30 minutes, adding water to achieve the desired level of tenderness. Salt to taste.
Your waakye is ready to eat. Serve with a sauce of vegetable and fish or meat.
Rosie's  Extra Tip- I like  my waakye with extra trimmings like spaghetti, gari and sardines, boiled eggs and lettuce  and you can try that also. Yummylicious!
I would love to hear from you when you try out this and any other recipe on the blog. Don't  forget to subscribe to the blog.